In the previous article with the 
interview with former UN director Călin Georgescu
, you were able to hear how the United Nations has been taken over by infiltrating of oligarchs and the role of the UN in the current global situation in close cooperation with the World Economic Forum.
As a logical follow-up to that interview, we will publish this very informative and important lecture by Rosa Koire, who elaborates on UN Agenda 21, better known today as Agenda 2030, the agenda for 'Sustainable Development'. There is an English version (without subs) but we made an edit with Dutch subs for our viewers in our country. (see below).
Using documents and illustrations, she shows in great detail the agenda that is being rolled out, with the result that more and more individual freedoms are disappearing. What is very remarkable is that this lecture dates from 2012, while everything she mentions in it is now becoming more and more visible in reality. It is as if she continues to elaborate on Călin Georgescu, while 10 years ago she was thus already warning humanity of what was to come.
What makes this lecture so special and so important is that most of us see the plans of Agenda 21/2030 that she discusses in everyday life being brought to fruition now. Climate change, one crisis after another, farmers and residents being driven from the countryside, bringing our doings and everything we consume under control; she names it all, because it is reflected in detail, which she actually illustrates. It is now being rolled out at a rapid pace so that contemporary reality only confirms and illustrates her story.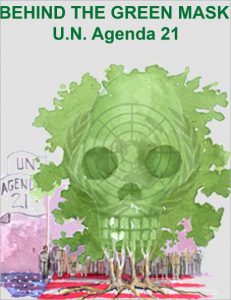 Rosa Koire sadly passed away in May 2021. She was previously a real estate forensic consultant specializing in estate valuation. She worked for the California Department of Transportation as a land use expert witness. Through
her experiences in her work, she began giving lectures all over the world to warn everyone of the enormous and draconian consequences of "sustainable" development" on private property rights, on farming, fishing, the middle class and individual human freedom, which are now at stake everywhere. She also wrote the book 
"Behind the Green Mask: U.N. Agenda 21"
 (Agenda 2030).
Her lectures are so valuable and more topical than ever, which is why they should be seen and heard by everyone.
For the video without Dutch subs click on the picture.
(With Dutch subs, click
here
)